"Yesterday, I noticed that my SD card deleted files itself. All data including my photos, music, apps and backups are gone. I don't know why. And now I'm confused and worried because I have no idea how to solve the problem."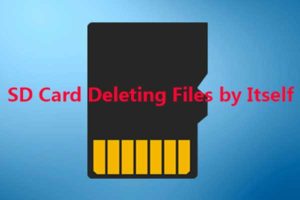 Many different errors or issues will happen while people use the SD card. But, what if the SD card keeps deleting files by itself? Have you ever met the situation? Do not have any idea how SD card data deleted automatically?
Why Does Your SD Card Delete Files by Itself
In fact, SD card will get corrupted or logically damaged because of improper operation or virus attack. And then, it may turn faulty card and lead to SD card deleting files by itself. That's horrible. Your SD card will be totally useless before you find the cause and solution to the problem.
Don't worry! You can fix the issue in several ways actually. But before fixing SD card deleting files by itself issue, you'd better recover deleted files from your SD card to avoid losing them permanently.
How to Restore Automatically Deleted Data from SD Card
Now take a breath and calm down. To recover deleted files, you are suggested to make use of MiniTool Power Data Recovery to carry out the task. It is the perfect solution to recover deleted files from SD card, regardless of how the files are deleted.
Just Download MiniTool Power Data Recovery from the website. Four recovery modules are consisted: This PC, Removable Disk Drive, Hard Disk Drive, and CD/DVD Drive. To recover files from SD card, you need to choose the Removable Disk Drive module to recover SD card files. It's easy and quick, only 3 steps are required.
Step 1: Connect the SD card to computer by inserting it to a card reader
Step 2: Use MiniTool Power Data Recovery to recover SD card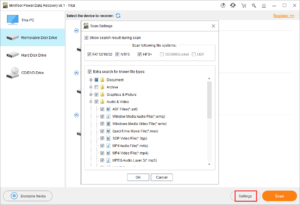 Open the software and you will enter This PC module interface directly. Next, you need to click on the Removable Disk Drive module from the left module list. Then, you can see SD card shown on the interface and choose it to scan.
Step 3: The scanning process will last for a while. Please be patient. When it finishes, you will see the scan result listed by the path. Thus, you can open the paths and choose the wanted files to recover.
MiniTool Power Data Recovery can scan and display the deleted and existing data on the SD card. However, if you want to recover more files, you need to update it to full version. (Only 1GB data can be recovered freely by this free edition.)
Do you like this professional data recovery software? If you think it is useful for you to recover the lost or deleted files, you can share it with your friends on Twitter or Facebook.
How to Prevent SD Card Deleting Files by Itself
As we told in the previous, problem of SD card deleting files by itself is mainly caused by the breakdown of the card. So, to avoid this accident, you can do as follows.
First, scan your SD card on computer to see if there are any problems, like a message prompts asking you to format it. Just follow and do it.
Second, maintain your SD card well regularly. For example, do some cleaning occasionally, taking care of your SD card.